The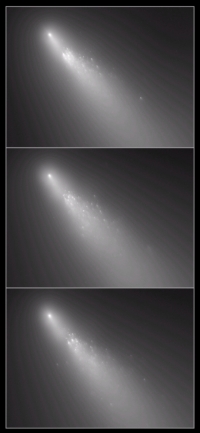 Hubble Space Telescope
recently imaged Comet Schwassmann-
Wachmann 3's break-up. The HST has delivered astronomical results since 1990. But NASA chief Mike Griffin will decide the future of the space-based telescope following the July launch of the
STS-121
. NASA Goddard scientist
Dr. David Leckrone
recently indicated that
the $2 billion telescope
could continue operating for years if it had human service missions to tend to its instrumentation.
Perhaps a space shuttle mission will be in its future. Hopefully, a
SpaceX Falcon 9
Dragon
human space capsule
may be able to service HST again in 2010 to operate in tandem with the planned
James Webb Telescope
for years.