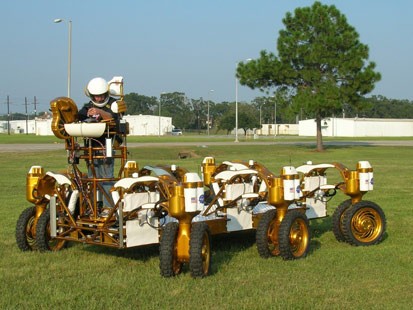 NASA has released images of its latest
lunar exploration concept vehicle
named
"Chariot"
- a six-wheeled, variable height, stand-to-operate surface rover prototype designed to provide ideas for future designs as part of the long-term goal of establishing an outpost on the moon by 2020.
Built at NASA's Johnson Space Center in Houston, Texas, each wheel on the new prototype vehicle has independent steering to enable "
crab crawling
" on the face of steep craters and other challenges presented by the lunar terrain, as well as having advantages for unloading and docking manoeuvres. Having six-wheels also means that the rover has more chance of continuing to function if something goes awry with one or two of the wheels - a point already proven on Mars.